Last Updated on Oct 1, 2022 | 01:23 by Tyler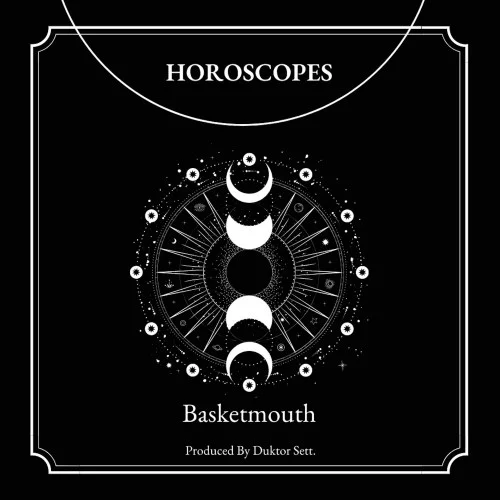 Basketmouth Horoscopes Album, Released by Baron'sWorld and EMPIRE.
Bright Okpocha popularly known as Basketmouth releases his sophomore album titled HOROSCOPES, A follow up to his debut music project- Yabasi. This coming after the previously released singles; Your Body and Trouble.
In a career spanning more than two decades, Basketmouth has emerged as one of Nigeria's most widely-respected comedians, actors and satirists, receiving awards and critical acclaim for his critiques on the intersection of humanity's evolving landscape, Internet culture and Nigerian histrionics. All of this did not really prepare anyone for his surprise pivot to music-making on 2020's Yabasi, a left-field body of work that effervescently melded Basketmouth's adolescent love for hip-hop with the frothing sound of highlife, a storied genre rooted in the Igbo culture of Basketmouth's Eastern Nigerian heritage.
For his sophomore album, Horoscopes, Basketmouth choose to continue his partnership with producer Duktor Sett, for a body of work that lingers in the melancholic at times, but never loses the artist's characteristic humour.
Horoscopes Album featuring Johnny Drille, Simi, Buju, Blaqbonez, Ruggedman, Magnito, Dremo, Peruzzi, 2Baba, Wande Coal, Oxlade, Efya, The Cavemen and more. See Tracklist below;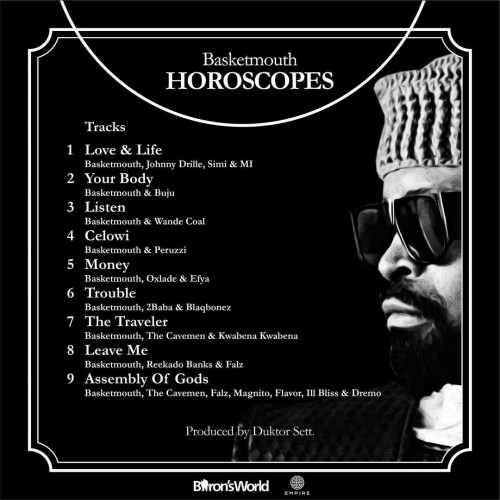 Complete with contributions from legendary wordsmith M.I Abaga, rising star Buju, and Ghanaian contemporary bards, Efya and Kwabena Kwabena, Horoscopes finds ways to humanise universal emotions like love, struggle, betrayal and wanderlust while giving life to new mediums of expressions within the musical world that Basketmouth has created. (The album also serves as a soundtrack to Scorpio—a feature-length movie scheduled for release this 2022.)
Listen to Horoscopes album below
Horoscopes Track-by-Track.
Love & Life (feat. M.I Abaga)
"So 'Love and Life' is a song about a guy married to his beautiful wife who, unfortunately, is still in love with her ex-boyfriend that's in jail serving life. And so she sneaks out to go visit her ex in jail—not knowing that her husband will actually trace her to the prison and see what she's up to. But he is not upset; instead, he's wishing and hoping that she can love him the way she loves the ex. So Johnny Drille is the husband, Simi is the girl, and M.I is the guy in prison and they all told their stories from their own perspective. It's one of my favourite songs on the project; the beat is so amazing."
Your Body (feat. Buju)
We recorded 'Your Body' in April 2021 when we were shooting the video for 'Pepper Soup', the one with Duncan Mighty and Ice Prince. Buju showed interest in working together and I was like, 'Duktor Sett and I are big fans of your work and I'd like us to make magic.' After a while, we got into the car and I jammed the beat to Buju—but the instrument that played for Buju wasn't what came out on the song. It's the same progression, but if you hear the real song, you'll be amazed at how Buju was able to surpass that beat to the point that Duktor Sett had to change the beat. Yeah. So Buju did a lot to that song. Most times some people don't live up to the instrumental, but Buju gave me the hook of that song when he walked into my car and heard the beat for the first time."
Listen
"It was beautiful making that song. That experience was unique. I'd been looking for Wande for a very long time. I tried to track him, sent him beats, but you know, Wande is almost impossible to reach. So one day, a friend of mine told me Wande was at the studio. I was like, 'What studio?' And they told me, 'Aristokrat.' So, I went there, met him, and I was like, 'There's something that you need to listen to. You'll love it. Trust me.' So, I played it for him and immediately he heard it, he gave me my song right there. I told Wande, 'Have fun on this one. Own it, express yourself.' We just needed feel-good music and that was exactly what he gave me. The thing is, what I did with that, I wanted to hear Wande sound like Wande when he first came out. Wande has evolved, even to a better version of himself. But I was like, I still want people to feel that nostalgic feeling, you know? And he came with that same energy."
Celowi
"We were in Warri, so I went to Peruzzi's room and I'm like, 'Dude, I've got some beats for you to vibe to; I have a feeling there are some you will like, but I will play everything.' So, I played everything to him and he vibed to every song, and actually gave me hits on every song. So I called him, and I was like, 'This is the one I want to do it, let's do it.' While he was recording, I was like, 'Who am I going to put on this with him?' No name came to mind. The song was complete. He asked me what the song was about and I just told him that we need something happy because this is a soundtrack for a movie called Scorpio. In this particular scene in the movie, I visualised it as an island; they met at the beach and started drinking and talking and they danced."
Money
I've always wanted Efya's voice on my project. She is amazing. I feel she's one of the best. Oxlade is also a monster, and he jumped on it. Immediately he did his thing; I knew I had my hook. We started working on that song , a week after Yabasi was released. Oxlade just freestyled. I like getting the song, and just diving into it, eating, sleeping, and drink to the song until I get what I want. When we recorded, I took his part and I kept playing it, and I knew this was the perfect song for Efya. I didn't want her to record alone and she didn't want to record alone. She wanted to feel my energy, and that's the kind of thing that I like, because I work with energy. So, I flew to Ghana and worked on the song; she nailed it. The song is about a hustler's dream. Every hustler, no matter how much you're grinding, when you make money, you want to show off. You want people to know that you've arrived. That's why it's like, 'If I get money, people go sabi who I be.' We needed to give people something to sing about, something that they can connect with as well."
Trouble
"Now, I've known Innocent for about 24 years, and in that 24 years, I have never been with him in the studio. But I think I was the first person to listen to almost all the songs he created back then. At the moment when I was putting this project together, I told him that I needed to do a song with him and he's been saying the same thing But we never ever made time. When Duktor Sett created the beat for this song, I was with him. It took me about three to six months to record that song with Innocent. Then one time, I woke up at about 3 AM, and I saw a missed call from him. I called him back, and he was asked if we could record the song now. I called Duktor Sett over and for some funny reason he was awake at the same time. over. 2Baba came over and we recorded at about 6 AM. As he was leaving, he said, 'Get Blaqbonez on this one, if you can.' The next day Blaqbonez came; 15 minutes later, he was literally done. And that's what everybody on that song did, they all came in and they gave it their best shot. I don't know how they do it, but I can tell you for a fact, I think Nigeria is blessed with some of the most talented musicians in the world."
The Traveller
"'The Traveler' is a song about a guy that left his village, in the East, looking for greener pasture. He keeps moving from one town to another, and through his journey he meets a girl and they get married. They move to the next town and this goes on until he finds himself in Ghana, and that's where he met Kwabena Kwabena. It's basically a story about a journey of life. What we did was try to blend the highlife music of Nigeria and Ghana, because they are not the same. There's a part where there was a call-and-response between Kwabena Kwabena and The Cavemen., and you hear them speak Twi and Igbo. It sounds like one language, and that's what we're trying to do with the album, with our music."
Leave Me
"'Leave Me' is a love song. Scorpio is a very naughty movie, but it's not glaring, and we needed a love song that was a bit erotic, but still feel-good music. We tried not to make it too dirty. I gave Reekado a very tough beat and I made him create a hit song from it. He came in and knew he had to approach the song differently, so he left us and went to . When he came back, like 20 to 30 minutes later, he just did it. That's a genius at work. Falz is a Scorpio, so I told him, 'Look, you're the only person that can really do this for me. I don't want anything hard. I want something happy, relaxed. You know your way, make it funny at the same time. 'Leave Me' is one of my favourites on the album."
Assembly of Gods" (feat. Magnito, Illbliss, & Dremo)
"I'm excited about this song because I kind of influenced the beat and Duktor Sett let me have fun with it. It was the easiest beat he had ever made. He didn't even mix anything, he just put the elements together and it was what I wanted. I just had the idea to have an assembly of rappers. Also, with the song, we tried to make it a unity song that had Igbo, Yoruba and Hausa rappers. Everyone is there–even if we can't get along in real life, let's have a musical conversation. So we had Falz first, and the next person came, and it was just that way till the end. At the end, I was like, 'You know what? I think I'm going to jump on this song.' I grabbed the mic and it was just one take. I just went in and did it."
The post Basketmouth – Horoscopes Album ft. M.I Abaga.. (Song) first appeared on tooXclusive.