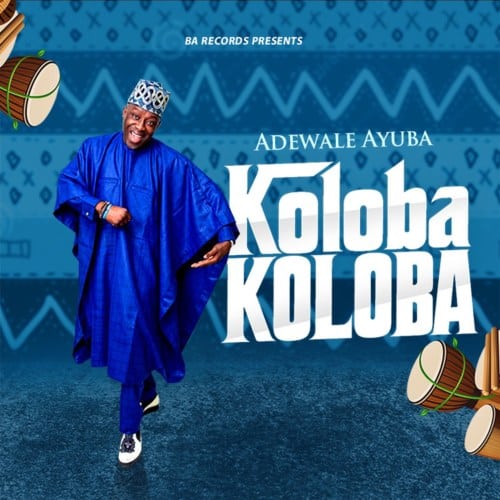 Fuji Meets Afrobeat in 2021 As Adewale Ayuba releases a new tune titled "Koloba Koloba".
Veteran fuji icon, Adewale Ayuba returns with a banging song, An infectious tune he title "Koloba Koloba". See Quotable Lyrics below
"Ewo ni Koloba Koloba, Tori mofe fomo yin
Ewo ni ti warrant officer, Tori mofe fomo yin
Wan bi mi, Mo tunra bi, Emi gan gan labisola,
Mobolaji, Mojibola, Mofe soko Bolatito
FILE Ma bawon Taton dele o…"
Adewale Ayuba (also known as Mr. Johnson). The leader of a 15-piece all-drum band, the Bonsue Fuji Organization, Ayuba has played an essential role in the evolution of Fuji, a form of juju played on traditional percussion instruments. ?Ayuba began singing as a child. His father was an amateur singer but reinforced the value of education, making his son agree to focus on his education during the week and allowing him to practice his music on Saturday. ?Since signing his first record deal in the 1980s, he has released 15 albums in Nigeria and four internationally. ?Ibere (Beginning) 1986, Igida (Tribute to Obafemi Awolowo) 1987, Bonsue Knockout 1987, Ife (Love) 1988, Olorun ni Gbe ni Ga 1989, Bubble 1991, Mr Johnson Play For Me 1992, Buggle D (Dance) 1994, Move Up 1995, Fuji Music 1995, Fuji Time 1996, Fuji Dub 1997, Acceleration 1999, Turn Me On 2001, Formular 2003, Gun Shot 2003, Fuji Satisfaction 2005, Ijo Fuji 2007, Mellow 2009, Ariya 2011, Sugar 2013, Happy People Remix 2015.
The new song 'Koloba Koloba' which talks about doing the most for love, delivered in Yoruba is off Adewale Ayuba's forthcoming album! Stay Tuned!
Listen and Enjoy!!!
The post Adewale Ayuba – "Koloba Koloba" | Mp3 Download (Song) first appeared on tooXclusive.