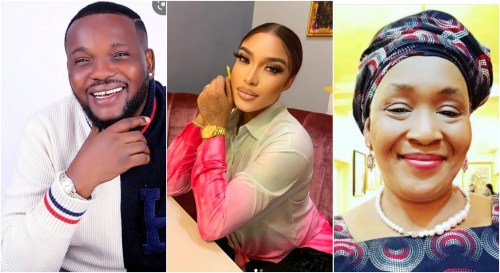 Actor, Yomi Fabiyi has weighed in on the ongoing rift between journalist, Kemi Olunloyo, and actress, Tonto Dikeh.
You will recall that Tonto Dikeh threatened to put Kemi Olunloyo back in jail after she called her a drug addict and offered to help.
Kemi also mentioned that Tonto purchased a gun during her crisis with her ex-husband, Olakunle Churchill, which eventually led to their divorce.
Tonto, however, arrived in Lagos yesterday in search of the self-acclaimed Journalist in a bid to teach her an unforgettable lesson.
Reacting to this, Yomi Fabiyi slammed Tonto and asked her to stop promoting unnecessary violence, adding that she has a dwindling personlaity.
He wrote;
Tonto Dikeh,
Sometimes silence is golden but in this case of you and Aunty Kemi Olunloyo, it will amount to CONSPIRACY OF SILENCE on the part of the society.
As a public figure, young people are looking and following you online and offline, it is criminal and anti-social to issue "THREATS" of this nature privately or publicly because someone supposedly wronged you. If you feel you have a case and aunty Kemi infringes on your rights, inform the police, see they take right action or approach the COURT.
Flashback when you jumped on my source of livelihood, asked people to attack my movie OKO IYABO, movie you never watched(like a handful) before rushing to judgement. I didn't Institute any legal action against you yet let alone threaten you privately(when we chatted). I just put you in your place since then. Everything is not by social media, easy does it.
Little did I know you will find excuse to mock your EX predicament(House Demolition) recently because of your past encounter. What a dwindling personality. I notice a handful of you then(during Oko Iyabo) but I don't dignify everybody with a response or throw stones at all dogs that barks, time will tell. I will always stand by what is right even if I stand alone or it takes time for all to understand.
I have a background, raised to know that there is "NO DIGNITY FIGHTING WHOEVER IS ON THE FLOOR", I picture humanity as my best religion. The Nigerian society is getting tired of your likes hiding behind "gender", "emotions", "anonymity of social media" etc to promote criminality in the name of whatever. Your likes see threat to life, trial by ordeal etc as means of seeking redress, classless! Polluting and misleading the society with negatives aided in part by social media, THIS NONSENSE MUST STOP, arrogance of Ignorance!
I will not ask you NOT TO attack Kemi Olunloyo. I like to advise people but sometimes don't wish they heed, e get why. ISSUING THREATS AND ATTEMPTING ARE PUTTING LAWS INTO YOUR HANDS, PUNISHABLE UNDER THE LAW. Seek the right way to register your displeasure(peaceful and legal means), stop promoting violence. Anything peace, human dignity, rule of law is everybody's business. My 1cent.
See Post:
View this post on Instagram