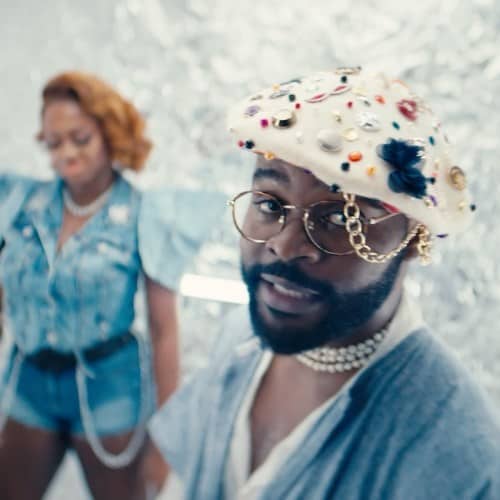 RICH N FAMOUS Presents Vibes Official Music Video Performed by Waje and Falz.
Vibes by Waje featuring Falz is a heavy tune of Afro dancehall fusion produced by the super producer "Yung Willis".
Sure to get your head nodding and your body moving with its nicely woven lyrics cutting across English, Pidgin and Yoruba language.
This is definitely a banger with two heavy weight artists out of Nigeria. DOWNLOAD AUDIO HERE
Directed @frizzlenbizzlefilms… Watch and Enjoy Vibes Official Video below;
VIBES LYRICS
A ya
Giddem
Wii Wii Willis
Giddem
My new vibes got them on the run
Bazuka no be water gun
My queens know that I'm the one
Pure vibes
No hype
No lie
Uhhh bad girls filling up my guest list
Bad vibes show dem where the exit
Hmm That body got a face lift
Drink in my cup bout to get lit
Ah ah ah
Let your hair down shalala
Raise your hands uh na na na
Feeling the beat uh la la la
Give them the whine and galala
Light it up and fire ya
Dj pump it high ya ya
Feeling the beat uh la la la
Give them the whine and galala (Giddem)
E reach to praise God
Give give give Dem the whine and galala
E reach to praise God o
Falz
Lights camera am the action
Them dey halla na we trigger that reaction
Wetin you see for caption that is fraction
Big picture your camera can not capture
To ba ri canvass ti mo wo se se kan lassan
We determine what's in vogue and out of fashion
I call Ifeoma tell her meet me on the dance floor
Just me and a baddie in the party no distraction
Up in the club turning it up pour me a cup
Now we ball I get touch Finidi George
I too dey flex I too dey floss I no go stop
Gbedu dey drop money dey talk you wassup
E reach to praise God
Give give give Dem the whine and galala
E reach to praise God o
Give give give Dem the whine and galala