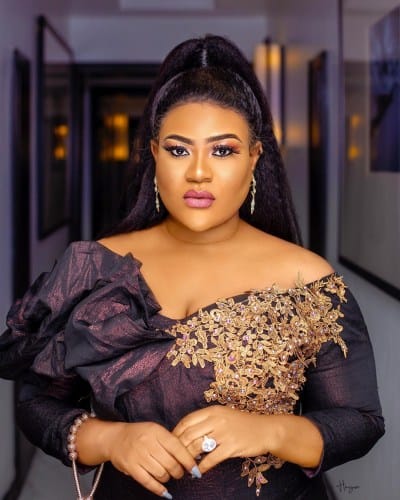 I'm now a virgin, I have flushed out all that my ex-boyfriend deposited in me.
Controversial actress and influencer, Nkechi Blessing has now revealed that she is back in a chaste state.
Nkechi who ended her last relationship with her ex, honorable Opeyemi Falegan in a very messy manner revealed that she is a virgin all over again, as she has flushed all that was deposited in her by her ex-boyfriends.
The curvy actress further shocked her fans when she shared that the last time she had sexual intercourse was in February.
Nkechi wrote;
I AM FREE BECAUSE I GET TESTED EVERY THREE MONTHS. FOR REAL, I DO A HEPATITIS B TEST.
ONCE I AM LEAVING SOMEBODY BEFORE STARTING ANOTHER I MAKE SURE I CHECK IF HE HAS DEPOSITED SOMETHING THAT WAS NOT SUPPOSED TO BE IN MY BODY, SO IF HE DEPOSITS, I FLUSH IT OUT AND START AFRESH LIKE RIGHT NOW I AM A VIRGIN, CLEAN SO BEFORE ANYBODY CAN COME IN YOU MUST GET TESTED. I HAVE FLUSHED THE LAST ONE SO NOW I AM VERY FREE.
She noted that she is still very much in contact with some of her ex-lovers, except for the ones that talk behind her back.
I can never be friends with an ex who goes about chatting shit.